Learn easier & faster with our totally tailored lessons
---
Do you want to get a better job, develop your career, 
or start your own business here in JAPAN?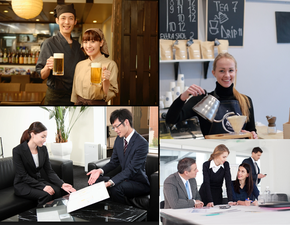 For those who seek business opportunities, it's vital to improve language skills not only to give customers better service but to build up better relationships with your business partners, colleagues, and employers.
At inTuition Language Training Studio, we are ready to help you develop your Japanese language skills by offering practical lessons totally tailored to your individual needs/business requirements.
---
 inTuition Language Training Studio offers:
■Tailored lessons focusing on individual learning needs and goals.
■Practice-based training including interactive drill exercise, role-play and flash card exercise. We focus on practicing rather than lecturing so that you can learn faster & more effectively.
■Pronunciation & fluency training to enable you to sound more natural.
Our lessons are ideal for those of you who wish to: 

-work as a retail sales associate, restaurant/cafe server, caregiver or in other service industries.
-prepare for job interviews/improve interview performance.
-learn technical terms frequently used in specific industry or how to use polite expressions in particular business situations.
※Please note all lessons are conducted in Japanese or English,
so students need to understand at least basic-level Japanese.
---
Our training courses also feature:
✅Flexible Learning Schedule
     Your training sessions can be arranged at the best time for you. 
✅Locations to Suit You
    Training sessions are available at our Nakano location, at your workplace, or at home.
✅One-on-One or Small Group Training
     you can choose to have one-on-one training or learn in a small group with your colleagues/friends.
✅Available for all ages
✅Free Consultation
     Let us discuss your goals and requirement, as well as your current level of the language.
---
Lesson Fees:
Admission fee: 5,000JPY+tax 
■60 min Session
One-on-one:  2,500JPY+tax per person
Two-on-one/Small group: 1,500JPY per person
■40 min Session:
One-on-one:  2,000JPY+tax per person
Two-on-one/Small group: 1,000JPY+tax per person
※30 min. Free Consultation is available for everyone
---
Other services for Business/Shop Owners
and Independent Teachers/Tutors
■Study Booth Rental Service 
 If you are looking for places to give lessons, please consider this service
⇒Please see the details
■Translation/Proofreading  Service
If you find it difficult to choose words/phrases for your ad or other documents in Japanese,
please get in touch with us.
We help you create catchy marketing/advertising phrases in Japanese 
with affordable rates.
We also translate/proofread your phrases/content of:
-Internet Home Page
-Restaurant food menu
-Recruitment ad
-Signboard 
-Flyer/Brochure
※Example
We do not just translate/proofread contents, but give you some advice  
to make them more memorable and readable.
---
 あなたは日本で良い仕事を得たいですか?キャリアアップを図りたいですか? 
それとも ビジネスを始めたいですか?
良い仕事を得たり、ビジネスで成功するためには、日本語の語学力の向上がとてもたいせつです。
inTuition Language Training Studioは、日本で仕事をしたい人たちのために、基本から応用まで、あなたの仕事、目的に応じた役に立つレッスンをご用意いたします。
実用的な日本語を学んで仕事で成功しよう!
無料相談を受けております。今すぐご連絡ください。
【レッスンの特徴】
≫ドリル、ロールプレイ、フラッシュカード演習などを行い、仕事に役立つ実用的な日本語の会話を練習します。
≫あなたが学びたいことだけにフォーカスし、必要な内容のみを集中的に訓練します。
≫あなたの仕事に必要な専門用語を学べます。
≫自然な敬語の使い方を練習します。
≫より自然な発音ができるように、発音訓練をします。
【こんなかたに最適です】
✔お店での販売、レストランやカフェでの接客や介護サービスなどの仕事をしたいかた
✔面接試験/就職試験の練習をしたいかた
✔文法よりも、会話の練習をたくさんしたいかた
✔はやく日本語会話をならいたいかた
【このようなサービスもあります】
 ≫あなたが作った文章やお店のメニュー、看板などの翻訳、添削、プルーフリードを格安でいたします。
 ≫お店の看板や広告、人材募集広告等ののキャッチフレーズ、文章の作成のお手伝いをいたします。
 ≫プライベートレッスンをされる語学教師のためにレッスンブースを格安でレンタルします
  ⇒Study Booth Rental
料金:
入会金:5000円+消費税 
■マンツーマンレッスン
40分 2,000円+消費税
60分 2,500円+消費税 
■小グループレッスン(2人以上)※同じレッスン内容です
40分 1,000円+消費税/1名
60分 2,000円+消費税/1名
※30分無料カウンセリング受付中
---